Club Wyndham Coffs Harbour -Terraces
Coffs Harbour is located on the Mid North Coast of New South Wales, halfway between Brisbane and Sydney. This favourite Australian beach holiday destination is loved for its relaxing and laid-back vibe, superb fishing, championship golf courses, World Heritage national parks, pristine golden surf beaches and family fun activities. Club Wyndham Coffs Harbour –Terraces is nestled within a picturesque natural setting in the Pacific Bay Resort Precinct. The property boasts magnificent gardens, a tranquil freshwater lagoon and is a short stroll from Charlesworth Bay Beach.
The Coffs Harbour golf resort provides a variety of accommodation designed with quality and comfort in mind including studio rooms and self-contained one and two-bedroom apartments that are ideal for recharging your batteries. Beach access and a variety of resort facilities will keep the whole family entertained at Club Wyndham Coffs Harbour -Terraces. Laze by the lagoon style swimming pool and keep up your fitness regime in the gym. Owners also have access to a selection of facilities in the Pacific Bay Resort Precinct including a nine-hole golf course, multiple swimming pools, day spa, Pacific Bay Resort restaurant and bar, plus more (charges may apply).
There are plenty of activities and attractions on offer in Coffs Harbour. The whale watching at Coffs Harbour is truly superb and you can see these majestic creatures every year from late May to early November. Take the kids to Dolphin Marine Magic or the iconic Big Banana – Australia's best-known man-made attraction. Pack your hiking boots and explore the magnificent World Heritage rainforests and state forest reserves in the region. Coffs Harbour also boasts 44 kilometres of pristine beaches where you can simply relax, or you can go scuba diving and snorkelling around the Solitary Islands Marine Park.
Read More
Pool
Beach access
Tennis court
Golf course
Sport recreation area
Beauty salon
Massage treatment
Undercover parking
Convenience store
Large resort precinct
Mountain Bikes
BBQ area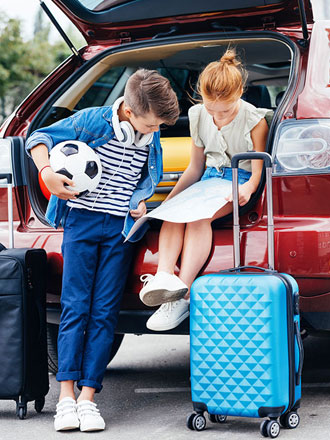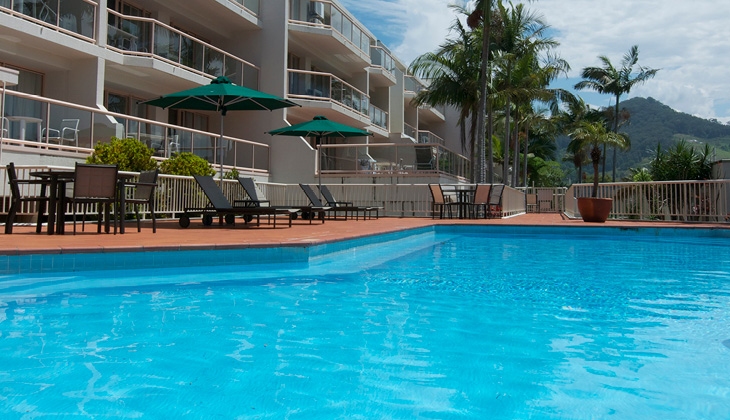 ROOM TYPE
Air Conditioning

Heating

Balcony or Deck

Bed Configuration

Bedding in lounge

Internet Access

Kitchen

Dishwasher

Number of Bathrooms

Shower/bath

Washer/Dryer (in unit)

Studio
Full
K
--
--
--
1
S
--

Maximum occupancy 2 people
One-room unit with a separate bathroom
1 x King Bed (cannot be split)
Bathroom - shower over bath
Mini kitchenette -Tea/coffee making facilities, toaster and microwave (no kitchen sink)
Private courtyard/balcony

Floor Plan

1 Bedroom
Full
K
Full
1
S/B

Maximum occupancy 4 people
1 x King bed (Cannot be Split), 1 x Pull out sofa bed
Cots and highchairs available free of charge on request
1 bathrooms - shower over spa bath
Full kitchen - Full size refrigerator, dishwasher, oven, stovetop and microwave
Private courtyard/balcony

Floor Plan

2 Bedroom
Full
K + SS
Full
2
S/B + S

Maximum occupancy 6 people
2 Bedrooms, dual key configuration (1 outer entrance door, 2 separate internal entrance doors - not inter-connecting
1 x King bed (cannot be split), 2 x Singles (Can be zipped together on request), 1 x Pull out sofa bed
Cots and highchairs available free of charge on request
2 bathrooms - 1 with shower over spa bath, 1 with walk in shower only
Full kitchen - Full size refrigerator, dishwasher, oven, stovetop and microwave
Private courtyard/balcony

Floor Plan
Studio
Air Conditioning

Full

Heating

Balcony or Deck

Bed Configuration

K

Bedding in lounge

--

Internet Access

Kitchen

--

Dishwasher

--

Number of Bathrooms

1

Shower / Bath

S

Washer/Dryer (in unit)

--

Maximum occupancy 2 people
One-room unit with a separate bathroom
1 x King Bed (cannot be split)
Bathroom - shower over bath
Mini kitchenette -Tea/coffee making facilities, toaster and microwave (no kitchen sink)
Private courtyard/balcony

Floor Plan
1 Bedroom
Air Conditioning

Full

Heating

Balcony or Deck

Bed Configuration

K

Bedding in lounge

Internet Access

Kitchen

Full

Dishwasher

Number of Bathrooms

1

Shower / Bath

S/B

Washer/Dryer (in unit)

Maximum occupancy 4 people
1 x King bed (Cannot be Split), 1 x Pull out sofa bed
Cots and highchairs available free of charge on request
1 bathrooms - shower over spa bath
Full kitchen - Full size refrigerator, dishwasher, oven, stovetop and microwave
Private courtyard/balcony

Floor Plan
2 Bedroom
Air Conditioning

Full

Heating

Balcony or Deck

Bed Configuration

K + SS

Bedding in lounge

Internet Access

Kitchen

Full

Dishwasher

Number of Bathrooms

2

Shower / Bath

S/B + S

Washer/Dryer (in unit)

Maximum occupancy 6 people
2 Bedrooms, dual key configuration (1 outer entrance door, 2 separate internal entrance doors - not inter-connecting
1 x King bed (cannot be split), 2 x Singles (Can be zipped together on request), 1 x Pull out sofa bed
Cots and highchairs available free of charge on request
2 bathrooms - 1 with shower over spa bath, 1 with walk in shower only
Full kitchen - Full size refrigerator, dishwasher, oven, stovetop and microwave
Private courtyard/balcony

Floor Plan