Club Wyndham Seven Mile Beach
Set in a prime location in southern Tasmania, Club Wyndham Seven Mile Beach offers the best of a relaxing beach holiday with the convenience of being only 20 minutes drive from Tasmania's capital city, Hobart. As Hobart's only beach resort, Club Wyndham Seven Mile Beach is a terrific option for a family holiday, and offers the peace and seclusion for a honeymoon destination.
The self-contained accommodation will make owners feel right at home while on holiday in Hobart. Apartments are spacious and stylishly appointed with contemporary, cosy furniture and superior amenities. The accommodation ranges from one, two, three and four-bedroom apartments including luxurious Grand and Presidential Suites. Every aspect of this eco-friendly resort accommodation in Tasmania has been inspired by the natural surroundings of Seven Mile Beach and designed to blend in with the elements.
To enhance your holiday experience, Club Wyndham Seven Mile Beach offers owners superb family friendly resort facilities. There is a heated outdoor pool and spa, tennis court, barbecue area and gym. Children will be well entertained with a games room, playground and splash fountain.
Seven Mile Beach is the perfect family holiday destination for discovering Tasmania's wilderness and enjoying Hobart's maritime charm with a diverse offering of activities and attractions on offer. From the surrounding region's rich history to its striking natural wonders, Tasmania is an intriguing island that blends heritage and lifestyle with scenery and culture. A stay at Club Wyndham Seven Mile Beach will provide you with easy access to many iconic Tasmanian landmarks. Wine Glass Bay, Bruny Island, the Huon Valley and Fortescue Bay are just a few attractions within an easy two-hour drive.
CLUB WYNDHAM OWNER FREE ACTIVITIES:
Hobby Farm Tour
Eco Resort Tour
E-Bike and Bike Hire
Tennis
Board Games
Table Tennis
Read More
Pool
Spa
Barbeque areas
Childrens playground
Tennis court
Games room
Conference facilities
Lounge bar and restaurant
Bike Hire
Table Tennis
Pool Table
Hobby Farm
Owner's Garden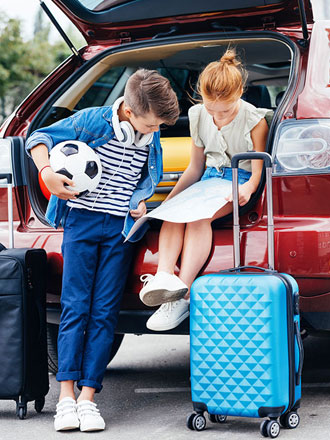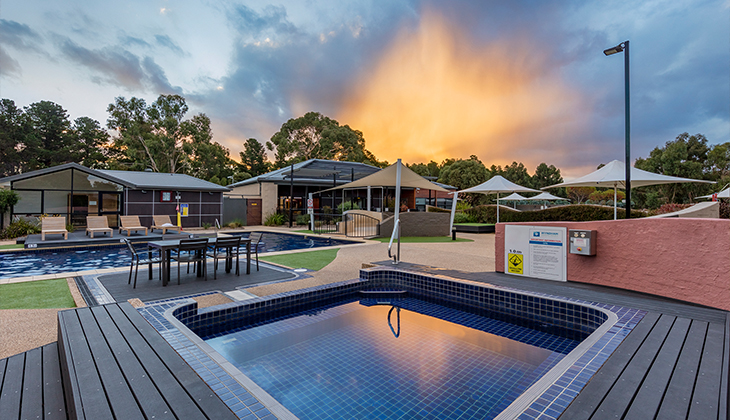 ROOM TYPE
Air Conditioning

Heating

Balcony or Deck

Bed Configuration

Bedding in lounge

Internet Access

Kitchen

Dishwasher

Number of Bathrooms

Shower/bath

Washer/Dryer (in unit)

1 Bedroom
Full
--
Q
Full
1
SB

Maximum Occupancy 4 people
1 x Queen bed (cannot be split) , 1 x Double sofa bed
Single level apartment (adjoining other apartments)
Separate bedroom with LCD TV
Lounge/dining area with widescreen LCD TV and DVD player
Internet, TVs and Movies via Lifestyle Panels
WiFi is available - limit 4 devices at a time
1 bathroom (shower over bath)
Full kitchen - galley style
Timber floor to living and kitchen areas
Laundry facilities
Paved outdoor area

 

Air conditioning

*Rollaway beds are not available *Limited cots and highchairs available free of charge on request

Floor Plan

1 Bedroom Deluxe
Full
--
Q
Full
1
S + B

Maximum Occupancy 4 people
1 x Queen bed (cannot be split) , 1 x Double sofa bed
Single level apartment (adjoining other apartments)
Separate bedroom with LCD TV
Lounge/dining area with widescreen LCD TV and DVD player
Internet, TVs and Movies via

 

LifeStyle Panel
WiFi is available - limit 4 devices at a time
1 bathroom -  includes spa bath, separate shower
Full kitchen - galley style with oven, stove-top, microwave, dishwasher
Timber floor to living and kitchen areas
Laundry facilities
Paved outdoor area
Air conditioning

 

High raked ceilings , 3.5 mtr windows at highest point

 

Deluxe style furnishings

*Rollaway beds are not available *Limited cots and highchairs available free of charge on request

Floor Plan

2 Bedroom
Full
--
Q + SS
Full
1
SB

Maximum Occupancy 6 people
1 x Queen bed (cannot be split) , 2 x Single beds (cannot be joined), 1 x Double sofa bed
Spacious open plan stand alone unit single level; perfect for young families as no stairs
Separate bedroom with LCD TV
Lounge/dining area with widescreen LCD TV and DVD player
Internet, TVs and Movies via

 

LifeStyle Panel
WiFi is available - limit 4 devices at a time
1 bathroom (shower over bath), separate toilet
Full kitchen with oven, stove-top, microwave, dishwasher
Timber floor to living and kitchen areas
Laundry facilities
Paved outdoor area

 

Air conditioning

 

Generous courtyard area with established natives

*Rollaway beds are not available *Limited cots and highchairs available free of charge on request Apartment Types:

2 Bedroom Special needs: specially designed apartment for people with special needs. Apartments have been designed for easy access with a wheel in shower (no bath) and railings in the bathroom.

Floor Plan

2 Bedroom Deluxe
Full
Q + SS
Full
2
S + B

Maximum occupancy 6 people
1 x Queen bed (cannot be split) , 2 x Single beds (can be joined), 1 x Double sofa bed (2 x singles can be joined but not recommended as this leaves very little space in the room)
Spacious open plan living; 2 levels with stairs (adjoining other apartments)
Larger living area on upper level opens onto balcony
2 separate bedrooms on lower level
2 bathrooms (inc en-suite) and 3 toilets
Lounge/dining area with widescreen LCD TV and DVD player
Internet, TVs and Movies via

 

LifeStyle Panel
WiFi is available - limit 4 devices at a time
Full kitchen with oven, stove-top, microwave, dishwasher
Timber floor to living and kitchen areas
Laundry facilities
Paved outdoor area

 

Air conditioning

 

Deluxe furniture package

*Rollaway beds are not available *Limited cots and highchairs available free of charge on request

Floor Plan

2 Bedroom Grand
Full
--
Q + SS
Full
2
S + B

Maximum Occupancy 6 people
1 x Queen Bed , 2 x Single Beds, 1 x Double Sofa Bed
Spacious architectural styled in a spiral this room is light and open plan
Stand alone unit Single level so perfect for young families as no stairs
Separate bedroom with LCD TV
Lounge/dining area with Bose sound bar, Widescreen LCD TV and DVD player
Superior furniture and fabrics
2 bathrooms and separate toilet, En suite includes corner spa and double vanity
 Full kitchen with island bench finished in stone
Superior Quality Appliances, crockery and cutlery
Timber floor to living and kitchen areas
Laundry Facilities
Paved Outdoor area
Air Conditioning

Floor Plan

2 Bedroom Presidential
Full
--
K + SS
Full
2
S + B

 Maximum occupancy 6 people
1 x King bed (cannot be split) , 2 x Single beds (can be joined), 1 x Double sofa bed
Spacious architectural styled in a spiral this room is light and open plan
Stand alone unit single level so perfect for young families as no stairs
Separate bedroom with LCD TV
Lounge/dining area with Bose sound bar & giant 42" ambilight TV

 

Internet, TVs and Movies via

 

LifeStyle Panel
WiFi is available - limit 4 devices at a time
Tiled stone feature wall around fire (please note: not all presidential units have a fireplace)
Superior furniture and fabrics
2 bathrooms and separate toilet, rain style shower head in architectural styled en suite, which includes corner spa and double vanity
Full kitchen with island bench finished in stone, with oven, stove-top, microwave, dishwasher

 

Gas operated wood stove
Superior quality appliances, crockery and cutlery

 

Timber floor to living and kitchen areas
Laundry facilities
Outdoor spa in courtyard and your own BBQ

 

Air conditioning

*Rollaway beds are not available *Limited cots and highchairs available free of charge on request

Floor Plan

3 Bedroom
Full
K + Q + SS
Full
2
S + B

Maximum Occupancy 8 people
1 x King size bed(cannot be split), 1 x Queen size bed(cannot be split), 2 x Single beds (can be joined). and Double pull out sofa bed
Widescreen LCD TV and DVD player
Master bedroom LCD TV
Internet, TVs and Movies via

 

LifeStyle Panel
WiFi is available - limit 4 devices at a time
Full kitchen with oven, stove-top, microwave, dishwasher
Large living area on upper level opens onto balcony
3 Separate Bedrooms on lower level
Timber floor to living and kitchen areas
Air conditioning
2 bathrooms (inc ensuite) and 3 toilets
2 levels with stairs open plan living upstairs
128.8m2

*Rollaway beds are not available *Limited cots and highchairs available free of charge on request

Floor Plan

3 Bedroom Deluxe
Full
K + Q + SS
Full
2
S + B

Maximum occupancy 8 people
1 x King size bed (cannot be split), 1 x Queen size bed (cannot be split), 2 x Single beds (can be joined)., and Double pull out sofa bed
Widescreen LCD TV and DVD player
Internet, TVs and Movies via

 

LifeStyle Panel
WiFi is available - limit 4 devices at a time
Master bedroom LCD TV
Large living area on upper level opens onto balcony
Full Kitchen with oven, stove-top, microwave, dishwasher
3 separate bedrooms on lower level
Timber floor to living and kitchen areas
Air conditioning
2 bathrooms (inc ensuite) and 3 toilets
2 levels with stairs open plan living upstairs
128.8m2

*Rollaway beds are not available *Limited cots and highchairs available free of charge on request

Floor Plan

3 Bedroom Grand
Full
--
K + Q + SS
Full
2
S + B

 Maximum occupancy 8 people - 1 x King size bed(cannot be split), 1 x Queen size bed(cannot be split), 2 x Single beds (can be joined), and Double pull out sofa bed
3 separate bedrooms
Widescreen LCD TV and DVD player
Internet, TVs and Movies via

 

LifeStyle Panel
WiFi is available - limit 4 devices at a time
Bose 3 speaker sound system and LCD TV
Master bedroom LCD TV
Timber floor to living and kitchen areas
Air conditioning
Full kitchen with oven, stove-top, microwave, dishwasher
2 bathrooms (inc ensuite) and 3 toilets. En suite features elliptical spa and double vanity
Stand alone unit on a single level
Deluxe furniture package superior grade of Tasmanian Landscape Art
145.1m2

*Rollaway beds are not available *Limited cots and highchairs available free of charge on request

Floor Plan

3 Bedroom Presidential
Full
--
K + Q + SS
Full
2
S + B

 Maximum occupancy 8 people

 

1 x King size bed (cannot be split), 1 x Queen size bed (cannot be split), 2 x Single beds (can be joined) and Double pull out sofa bed
Widescreen LCD TV and DVD player
Internet, TVs and Movies via

 

LifeStyle Panel
WiFi is available - limit 4 devices at a time
Bose lifestyle sound bar & giant 42" ambilight TV
3 separate bedrooms
Master bedroom LCD TV
Timber floor to living and kitchen areas
Full kitchen with oven, stove-top, microwave, dishwasher
2 bathrooms (inc ensuite) and 3 toilets,ensuite features elliptical spa and double vanity
Stand alone unit on a single level
Gas/wood Fireplace (1 unit has wood, 1 has gas)
Deluxe furniture package superior grade of Tasmanian Landscape Art
Outdoor spa in courtyard and your own BBQ
145.1m2

*Rollaway beds are not available *Limited cots and highchairs available free of charge on request

Floor Plan

4 Bedroom Grand
Full
--
K + Q + Q + SS
Full
2
S + B

Maximum occupancy 10 people
1 x King size bed (cannot be split), 2 x Queen size beds (cannot be split), 2 x Single beds (can be joined)
4 separate bedrooms
2 bathrooms - ensuite has walk in shower, main bathroom with shower over bath

 

Full kitchen with island bench finished in stone, oven, stove-top, dishwasher (largest kitchen of all apartments)
Superior furniture and fabrics
Bose sound bar sound system and LCD TV
Internet, TVs and Movies via

 

LifeStyle Panel
WiFi is available - limit 4 devices at a time
Stand alone unit in a private location with enclosed courtyard with private spa and BBQ
Accommodates large families

 

Only apartment with undercover parking area

*Rollaway beds are not available *Limited cots and highchairs available free of charge on request
1 Bedroom
Air Conditioning

Full

Heating

Balcony or Deck

--

Bed Configuration

Q

Bedding in lounge

Internet Access

Kitchen

Full

Dishwasher

Number of Bathrooms

1

Shower / Bath

SB

Washer/Dryer (in unit)

Maximum Occupancy 4 people
1 x Queen bed (cannot be split) , 1 x Double sofa bed
Single level apartment (adjoining other apartments)
Separate bedroom with LCD TV
Lounge/dining area with widescreen LCD TV and DVD player
Internet, TVs and Movies via Lifestyle Panels
WiFi is available - limit 4 devices at a time
1 bathroom (shower over bath)
Full kitchen - galley style
Timber floor to living and kitchen areas
Laundry facilities
Paved outdoor area

 

Air conditioning

*Rollaway beds are not available *Limited cots and highchairs available free of charge on request

Floor Plan
1 Bedroom Deluxe
Air Conditioning

Full

Heating

Balcony or Deck

--

Bed Configuration

Q

Bedding in lounge

Internet Access

Kitchen

Full

Dishwasher

Number of Bathrooms

1

Shower / Bath

S + B

Washer/Dryer (in unit)

Maximum Occupancy 4 people
1 x Queen bed (cannot be split) , 1 x Double sofa bed
Single level apartment (adjoining other apartments)
Separate bedroom with LCD TV
Lounge/dining area with widescreen LCD TV and DVD player
Internet, TVs and Movies via

 

LifeStyle Panel
WiFi is available - limit 4 devices at a time
1 bathroom -  includes spa bath, separate shower
Full kitchen - galley style with oven, stove-top, microwave, dishwasher
Timber floor to living and kitchen areas
Laundry facilities
Paved outdoor area
Air conditioning

 

High raked ceilings , 3.5 mtr windows at highest point

 

Deluxe style furnishings

*Rollaway beds are not available *Limited cots and highchairs available free of charge on request

Floor Plan
2 Bedroom
Air Conditioning

Full

Heating

Balcony or Deck

--

Bed Configuration

Q + SS

Bedding in lounge

Internet Access

Kitchen

Full

Dishwasher

Number of Bathrooms

1

Shower / Bath

SB

Washer/Dryer (in unit)

Maximum Occupancy 6 people
1 x Queen bed (cannot be split) , 2 x Single beds (cannot be joined), 1 x Double sofa bed
Spacious open plan stand alone unit single level; perfect for young families as no stairs
Separate bedroom with LCD TV
Lounge/dining area with widescreen LCD TV and DVD player
Internet, TVs and Movies via

 

LifeStyle Panel
WiFi is available - limit 4 devices at a time
1 bathroom (shower over bath), separate toilet
Full kitchen with oven, stove-top, microwave, dishwasher
Timber floor to living and kitchen areas
Laundry facilities
Paved outdoor area

 

Air conditioning

 

Generous courtyard area with established natives

*Rollaway beds are not available *Limited cots and highchairs available free of charge on request Apartment Types:

2 Bedroom Special needs: specially designed apartment for people with special needs. Apartments have been designed for easy access with a wheel in shower (no bath) and railings in the bathroom.

Floor Plan
2 Bedroom Deluxe
Air Conditioning

Full

Heating

Balcony or Deck

Bed Configuration

Q + SS

Bedding in lounge

Internet Access

Kitchen

Full

Dishwasher

Number of Bathrooms

2

Shower / Bath

S + B

Washer/Dryer (in unit)

Maximum occupancy 6 people
1 x Queen bed (cannot be split) , 2 x Single beds (can be joined), 1 x Double sofa bed (2 x singles can be joined but not recommended as this leaves very little space in the room)
Spacious open plan living; 2 levels with stairs (adjoining other apartments)
Larger living area on upper level opens onto balcony
2 separate bedrooms on lower level
2 bathrooms (inc en-suite) and 3 toilets
Lounge/dining area with widescreen LCD TV and DVD player
Internet, TVs and Movies via

 

LifeStyle Panel
WiFi is available - limit 4 devices at a time
Full kitchen with oven, stove-top, microwave, dishwasher
Timber floor to living and kitchen areas
Laundry facilities
Paved outdoor area

 

Air conditioning

 

Deluxe furniture package

*Rollaway beds are not available *Limited cots and highchairs available free of charge on request

Floor Plan
2 Bedroom Grand
Air Conditioning

Full

Heating

Balcony or Deck

--

Bed Configuration

Q + SS

Bedding in lounge

Internet Access

Kitchen

Full

Dishwasher

Number of Bathrooms

2

Shower / Bath

S + B

Washer/Dryer (in unit)

Maximum Occupancy 6 people
1 x Queen Bed , 2 x Single Beds, 1 x Double Sofa Bed
Spacious architectural styled in a spiral this room is light and open plan
Stand alone unit Single level so perfect for young families as no stairs
Separate bedroom with LCD TV
Lounge/dining area with Bose sound bar, Widescreen LCD TV and DVD player
Superior furniture and fabrics
2 bathrooms and separate toilet, En suite includes corner spa and double vanity
 Full kitchen with island bench finished in stone
Superior Quality Appliances, crockery and cutlery
Timber floor to living and kitchen areas
Laundry Facilities
Paved Outdoor area
Air Conditioning

Floor Plan
2 Bedroom Presidential
Air Conditioning

Full

Heating

Balcony or Deck

--

Bed Configuration

K + SS

Bedding in lounge

Internet Access

Kitchen

Full

Dishwasher

Number of Bathrooms

2

Shower / Bath

S + B

Washer/Dryer (in unit)

 Maximum occupancy 6 people
1 x King bed (cannot be split) , 2 x Single beds (can be joined), 1 x Double sofa bed
Spacious architectural styled in a spiral this room is light and open plan
Stand alone unit single level so perfect for young families as no stairs
Separate bedroom with LCD TV
Lounge/dining area with Bose sound bar & giant 42" ambilight TV

 

Internet, TVs and Movies via

 

LifeStyle Panel
WiFi is available - limit 4 devices at a time
Tiled stone feature wall around fire (please note: not all presidential units have a fireplace)
Superior furniture and fabrics
2 bathrooms and separate toilet, rain style shower head in architectural styled en suite, which includes corner spa and double vanity
Full kitchen with island bench finished in stone, with oven, stove-top, microwave, dishwasher

 

Gas operated wood stove
Superior quality appliances, crockery and cutlery

 

Timber floor to living and kitchen areas
Laundry facilities
Outdoor spa in courtyard and your own BBQ

 

Air conditioning

*Rollaway beds are not available *Limited cots and highchairs available free of charge on request

Floor Plan
3 Bedroom
Air Conditioning

Full

Heating

Balcony or Deck

Bed Configuration

K + Q + SS

Bedding in lounge

Internet Access

Kitchen

Full

Dishwasher

Number of Bathrooms

2

Shower / Bath

S + B

Washer/Dryer (in unit)

Maximum Occupancy 8 people
1 x King size bed(cannot be split), 1 x Queen size bed(cannot be split), 2 x Single beds (can be joined). and Double pull out sofa bed
Widescreen LCD TV and DVD player
Master bedroom LCD TV
Internet, TVs and Movies via

 

LifeStyle Panel
WiFi is available - limit 4 devices at a time
Full kitchen with oven, stove-top, microwave, dishwasher
Large living area on upper level opens onto balcony
3 Separate Bedrooms on lower level
Timber floor to living and kitchen areas
Air conditioning
2 bathrooms (inc ensuite) and 3 toilets
2 levels with stairs open plan living upstairs
128.8m2

*Rollaway beds are not available *Limited cots and highchairs available free of charge on request

Floor Plan
3 Bedroom Deluxe
Air Conditioning

Full

Heating

Balcony or Deck

Bed Configuration

K + Q + SS

Bedding in lounge

Internet Access

Kitchen

Full

Dishwasher

Number of Bathrooms

2

Shower / Bath

S + B

Washer/Dryer (in unit)

Maximum occupancy 8 people
1 x King size bed (cannot be split), 1 x Queen size bed (cannot be split), 2 x Single beds (can be joined)., and Double pull out sofa bed
Widescreen LCD TV and DVD player
Internet, TVs and Movies via

 

LifeStyle Panel
WiFi is available - limit 4 devices at a time
Master bedroom LCD TV
Large living area on upper level opens onto balcony
Full Kitchen with oven, stove-top, microwave, dishwasher
3 separate bedrooms on lower level
Timber floor to living and kitchen areas
Air conditioning
2 bathrooms (inc ensuite) and 3 toilets
2 levels with stairs open plan living upstairs
128.8m2

*Rollaway beds are not available *Limited cots and highchairs available free of charge on request

Floor Plan
3 Bedroom Grand
Air Conditioning

Full

Heating

Balcony or Deck

--

Bed Configuration

K + Q + SS

Bedding in lounge

Internet Access

Kitchen

Full

Dishwasher

Number of Bathrooms

2

Shower / Bath

S + B

Washer/Dryer (in unit)

 Maximum occupancy 8 people - 1 x King size bed(cannot be split), 1 x Queen size bed(cannot be split), 2 x Single beds (can be joined), and Double pull out sofa bed
3 separate bedrooms
Widescreen LCD TV and DVD player
Internet, TVs and Movies via

 

LifeStyle Panel
WiFi is available - limit 4 devices at a time
Bose 3 speaker sound system and LCD TV
Master bedroom LCD TV
Timber floor to living and kitchen areas
Air conditioning
Full kitchen with oven, stove-top, microwave, dishwasher
2 bathrooms (inc ensuite) and 3 toilets. En suite features elliptical spa and double vanity
Stand alone unit on a single level
Deluxe furniture package superior grade of Tasmanian Landscape Art
145.1m2

*Rollaway beds are not available *Limited cots and highchairs available free of charge on request

Floor Plan
3 Bedroom Presidential
Air Conditioning

Full

Heating

Balcony or Deck

--

Bed Configuration

K + Q + SS

Bedding in lounge

Internet Access

Kitchen

Full

Dishwasher

Number of Bathrooms

2

Shower / Bath

S + B

Washer/Dryer (in unit)

 Maximum occupancy 8 people

 

1 x King size bed (cannot be split), 1 x Queen size bed (cannot be split), 2 x Single beds (can be joined) and Double pull out sofa bed
Widescreen LCD TV and DVD player
Internet, TVs and Movies via

 

LifeStyle Panel
WiFi is available - limit 4 devices at a time
Bose lifestyle sound bar & giant 42" ambilight TV
3 separate bedrooms
Master bedroom LCD TV
Timber floor to living and kitchen areas
Full kitchen with oven, stove-top, microwave, dishwasher
2 bathrooms (inc ensuite) and 3 toilets,ensuite features elliptical spa and double vanity
Stand alone unit on a single level
Gas/wood Fireplace (1 unit has wood, 1 has gas)
Deluxe furniture package superior grade of Tasmanian Landscape Art
Outdoor spa in courtyard and your own BBQ
145.1m2

*Rollaway beds are not available *Limited cots and highchairs available free of charge on request

Floor Plan
4 Bedroom Grand
Air Conditioning

Full

Heating

Balcony or Deck

--

Bed Configuration

K + Q + Q + SS

Bedding in lounge

Internet Access

Kitchen

Full

Dishwasher

Number of Bathrooms

2

Shower / Bath

S + B

Washer/Dryer (in unit)

Maximum occupancy 10 people
1 x King size bed (cannot be split), 2 x Queen size beds (cannot be split), 2 x Single beds (can be joined)
4 separate bedrooms
2 bathrooms - ensuite has walk in shower, main bathroom with shower over bath

 

Full kitchen with island bench finished in stone, oven, stove-top, dishwasher (largest kitchen of all apartments)
Superior furniture and fabrics
Bose sound bar sound system and LCD TV
Internet, TVs and Movies via

 

LifeStyle Panel
WiFi is available - limit 4 devices at a time
Stand alone unit in a private location with enclosed courtyard with private spa and BBQ
Accommodates large families

 

Only apartment with undercover parking area

*Rollaway beds are not available *Limited cots and highchairs available free of charge on request