Club Wyndham Phillip Island
Situated only two hours drive from Melbourne and conveniently located in the centre of Phillip Island, Club Wyndham Phillip Island is spread across 65 acres of beautiful countryside.
Surrounded by natural bushland, Club Wyndham Phillip Island boasts an array of superb facilities including a café and bar, outdoor swimming pool, health centre with fully equipped gym and spa, two tennis courts and picnic barbecue areas. For those who like to stay active and explore the surrounds, there are seven kilometres of walking and cycling tracks around the resort.
All accommodation options at this Phillip Island resort in Victoria are in a private natural setting, surrounded by native gardens. The studios, two and three-bedroom cottages feature full kitchen facilities and an outdoor deck.
Whether you choose to partake in the many activities and attractions that Phillip Island offers or just make the most of the relaxing environment by enjoying walking, cycling, bird watching and picnics, Club Wyndham Phillip Island is a fantastic holiday destination for couples and families.
CLUB WYNDHAM OWNER FREE ACTIVITIES:
DVD Hire
Board Games
Tennis Racquet Hire
Kids Playground
Walking Tracks
Pedal Carts
Read More
BBQ Facilities
Parking
Heated indoor lap pool
Games Room
Outdoor Pool
Indoor and Outdoor Spa Facilities
Flametrees
Café and Restaurant
Children's Playground/ Sandpit/ Blackboards
Tennis Courts
Children's wading pool
Gymnasiums
Sauna
Conference and Event Facilities
Bicycle Hire and walking tracks
Outdoor Table Tennis
Board Games/Outdoor Jumbo Jenga
Pedal Karts
Activity Circuit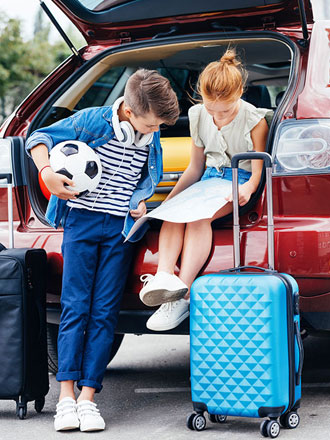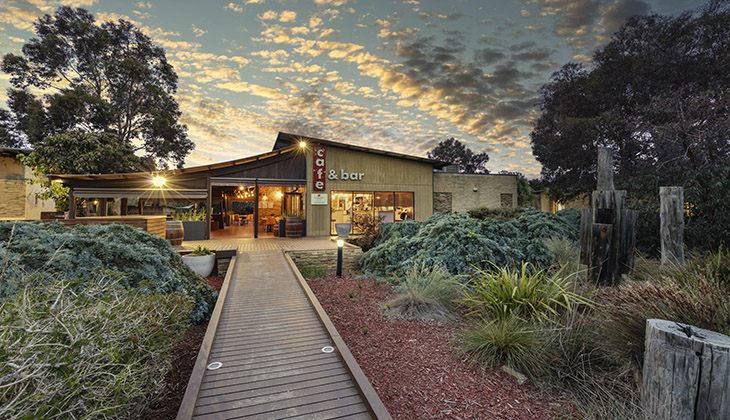 ROOM TYPE
Air Conditioning

Heating

Balcony or Deck

Bed Configuration

Bedding in lounge

Internet Access

Kitchen

Dishwasher

Number of Bathrooms

Shower/bath

Washer/Dryer (in unit)

Studio
Full
Q
--
--
Full
--
1
S
--

Maximum occupancy: 2 people
1 x Queen Bed (cannot be split)
Open plan
Full kitchen
1 bathroom including walk-in shower
Heating & air conditioning
Patio
The studio villas are equipped with a dishwasher.
All villas have between 1-3 steps leading to them.

*Rollaway beds are not available *Cots and highchairs available free of charge on request

Floor Plan

2 Bedroom
Partial
--
Q + SS
--
Full
1
S

Maximum occupancy: 4 people
1 x Queen bed (cannot be split) & 2 singles (can be joined on prior request with 48 hour notice) - NO SOFA BED
Air Conditioning and ceiling fans in living areas only - not in bedrooms.
1 Bathroom with walk in shower - no bath or shower over bath.
Full kitchen with stovetop, oven, microwave, refrigerator, dishwasher
Washer and dryer
All villas have between 1-3 steps leading to them.

*Rollaway beds are not available *Cots and highchairs available free of charge on request

Floor Plan

2 Bedroom Deluxe
Full
Q + SS
--
Full
1
S

Maximum occupancy: 4 people
1 x Queen bed (cannot be split) & 2 singles (can be joined on prior request with 48 hour notice) - NO SOFA BED
Air Conditioning and ceiling fans in living areas only - not in bedrooms.
1 Bathroom with walk in shower - no bath or shower over bath.
Full kitchen with stovetop, oven, microwave, refrigerator, dishwasher
Washer and dryer
All villas have between 1-3 steps leading to them.

*Rollaway beds are not available *Cots and highchairs available free of charge on request

3 Bedroom
Partial
--
2Q + SS
--
Full
2
SB + S

Maximum occupancy 6 people
2 x Queen beds (cannot be split) & 2 singles (can be joined on prior request with 48 hour notice) - NO SOFA BED
2 Bathrooms: Ensuite has walk in shower, and main bathroom has shower over bath,
Air Conditioning and ceiling fans in living areas only - not in bedrooms.
Full kitchen with stovetop, oven, microwave, refrigerator, dishwasher
Washer and dryer

*Rollaway beds are not available *Cots and highchairs available free of charge on request

Room Type:

3 Bedroom Villa Special Needs - Specially designed apartment for people with special needs. Unit has ramp entry to front entrance, 1 step to back entrance and handrails.

Floor Plan

3 Bedroom Deluxe
Full
Q + SS + SS
--
Full
2
S + S

Maximum occupancy 6 people
1 x Queen beds (cannot be split) & 2 x 2 singles (can be joined on prior request with 48 hour notice) - NO SOFA BED
2 Bathrooms: Ensuite has walk in shower, and main bathroom has shower
Air Conditioning and ceiling fans in living areas only - not in bedrooms.
Full kitchen with stovetop, oven, microwave, refrigerator, dishwasher
Washer and dryer

*Rollaway beds are not available *Cots and highchairs available free of charge on request

3 Bedroom Grand
Full
Q + SS + SS
--
Full
2
S + S

Maximum occupancy 6 people
1 x Queen beds (cannot be split) & 2 x 2 singles (can be joined on prior request with 48 hour notice) - NO SOFA BED
2 Bathrooms: Ensuite has walk in shower, and main bathroom has shower
Air Conditioning and ceiling fans in living areas only - not in bedrooms.
Full kitchen with stovetop, oven, microwave, refrigerator, dishwasher
Washer and dryer

*Rollaway beds are not available *Cots and highchairs available free of charge on request
Studio
Air Conditioning

Full

Heating

Balcony or Deck

Bed Configuration

Q

Bedding in lounge

--

Internet Access

--

Kitchen

Full

Dishwasher

--

Number of Bathrooms

1

Shower / Bath

S

Washer/Dryer (in unit)

--

Maximum occupancy: 2 people
1 x Queen Bed (cannot be split)
Open plan
Full kitchen
1 bathroom including walk-in shower
Heating & air conditioning
Patio
The studio villas are equipped with a dishwasher.
All villas have between 1-3 steps leading to them.

*Rollaway beds are not available *Cots and highchairs available free of charge on request

Floor Plan
2 Bedroom
Air Conditioning

Partial

Heating

--

Balcony or Deck

Bed Configuration

Q + SS

Bedding in lounge

--

Internet Access

Kitchen

Full

Dishwasher

Number of Bathrooms

1

Shower / Bath

S

Washer/Dryer (in unit)

Maximum occupancy: 4 people
1 x Queen bed (cannot be split) & 2 singles (can be joined on prior request with 48 hour notice) - NO SOFA BED
Air Conditioning and ceiling fans in living areas only - not in bedrooms.
1 Bathroom with walk in shower - no bath or shower over bath.
Full kitchen with stovetop, oven, microwave, refrigerator, dishwasher
Washer and dryer
All villas have between 1-3 steps leading to them.

*Rollaway beds are not available *Cots and highchairs available free of charge on request

Floor Plan
2 Bedroom Deluxe
Air Conditioning

Full

Heating

Balcony or Deck

Bed Configuration

Q + SS

Bedding in lounge

--

Internet Access

Kitchen

Full

Dishwasher

Number of Bathrooms

1

Shower / Bath

S

Washer/Dryer (in unit)

Maximum occupancy: 4 people
1 x Queen bed (cannot be split) & 2 singles (can be joined on prior request with 48 hour notice) - NO SOFA BED
Air Conditioning and ceiling fans in living areas only - not in bedrooms.
1 Bathroom with walk in shower - no bath or shower over bath.
Full kitchen with stovetop, oven, microwave, refrigerator, dishwasher
Washer and dryer
All villas have between 1-3 steps leading to them.

*Rollaway beds are not available *Cots and highchairs available free of charge on request
3 Bedroom
Air Conditioning

Partial

Heating

--

Balcony or Deck

Bed Configuration

2Q + SS

Bedding in lounge

--

Internet Access

Kitchen

Full

Dishwasher

Number of Bathrooms

2

Shower / Bath

SB + S

Washer/Dryer (in unit)

Maximum occupancy 6 people
2 x Queen beds (cannot be split) & 2 singles (can be joined on prior request with 48 hour notice) - NO SOFA BED
2 Bathrooms: Ensuite has walk in shower, and main bathroom has shower over bath,
Air Conditioning and ceiling fans in living areas only - not in bedrooms.
Full kitchen with stovetop, oven, microwave, refrigerator, dishwasher
Washer and dryer

*Rollaway beds are not available *Cots and highchairs available free of charge on request

Room Type:

3 Bedroom Villa Special Needs - Specially designed apartment for people with special needs. Unit has ramp entry to front entrance, 1 step to back entrance and handrails.

Floor Plan
3 Bedroom Deluxe
Air Conditioning

Full

Heating

Balcony or Deck

Bed Configuration

Q + SS + SS

Bedding in lounge

--

Internet Access

Kitchen

Full

Dishwasher

Number of Bathrooms

2

Shower / Bath

S + S

Washer/Dryer (in unit)

Maximum occupancy 6 people
1 x Queen beds (cannot be split) & 2 x 2 singles (can be joined on prior request with 48 hour notice) - NO SOFA BED
2 Bathrooms: Ensuite has walk in shower, and main bathroom has shower
Air Conditioning and ceiling fans in living areas only - not in bedrooms.
Full kitchen with stovetop, oven, microwave, refrigerator, dishwasher
Washer and dryer

*Rollaway beds are not available *Cots and highchairs available free of charge on request
3 Bedroom Grand
Air Conditioning

Full

Heating

Balcony or Deck

Bed Configuration

Q + SS + SS

Bedding in lounge

--

Internet Access

Kitchen

Full

Dishwasher

Number of Bathrooms

2

Shower / Bath

S + S

Washer/Dryer (in unit)

Maximum occupancy 6 people
1 x Queen beds (cannot be split) & 2 x 2 singles (can be joined on prior request with 48 hour notice) - NO SOFA BED
2 Bathrooms: Ensuite has walk in shower, and main bathroom has shower
Air Conditioning and ceiling fans in living areas only - not in bedrooms.
Full kitchen with stovetop, oven, microwave, refrigerator, dishwasher
Washer and dryer

*Rollaway beds are not available *Cots and highchairs available free of charge on request